《中外民间交流》第16期
发布:商会网信部 来源:CICCPS 时间:2020-05-15 17:21:09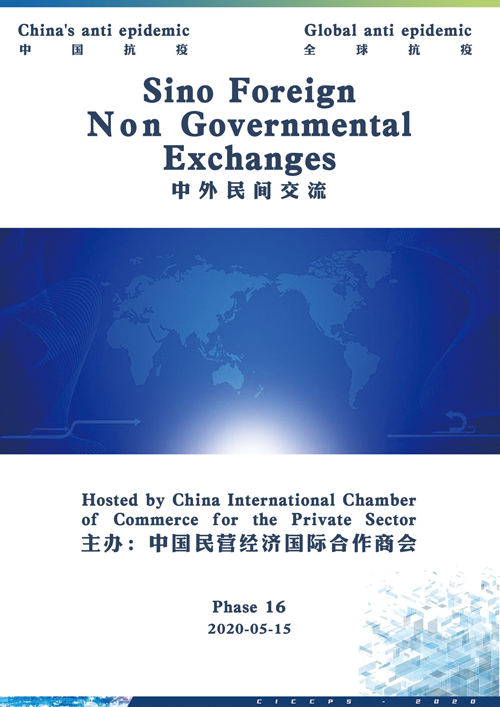 前 言
Preface
中国民营经济国际合作商会创办《中外民间交流》简报,其目的是在全球抗击新冠病毒的背景下,让国外民间组织和广大朋友通过这一窗口,更多地了解中国和全球抗击疫情的一些动态,以及在抗击疫情中的专家观点、经验分享、卫生常识、企业合作和防护物资需求等相关信息,成为中外民间组织交流合作的一个平台。简报每周两期,希望她能够为大家带来一些新信息、新情况、新渠道。愿我们通过交流成为好朋友、好伙伴!
The purpose of "The Brief Report on non government exchanges between China and foreign countries", which was compiled and printed by China International Chamber of Commerce for the Private Sector, is to let foreign non-governmental organizations and friends know more about the trends of China and the world in the fight against the novel coronavirus through this window, as well as experts' opinions, experience sharing, sense of common health care knowledge, information on enterprise cooperation and demand for protective materials, to make it becoming a platform for exchanges and cooperation between Chinese and foreign non-governmental organization. We hope it can bring you some new information, new situation and new channels. May we become good friends and partners through exchanges!
全球新冠疫情播报
Global COVID-19 Situation
中国疫情图
China's COVID-19 epidemic map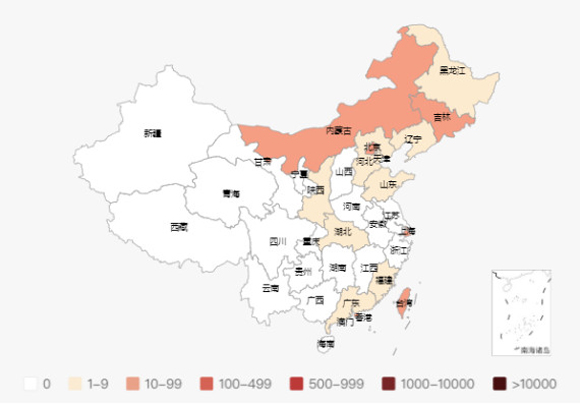 5月14日,中国累计确诊84464例,现存确诊199例。共有18个省无现存确诊病例,昨日新增6例,无境外输入。
By 14th May, the number of total confirmed cases is 84,464, while existing cases is 199. No existing case in 18 of 34 provinces. 0 of 6 new case were imported cases during last 24h.
全球疫情图
Global COVID-19 epidemic map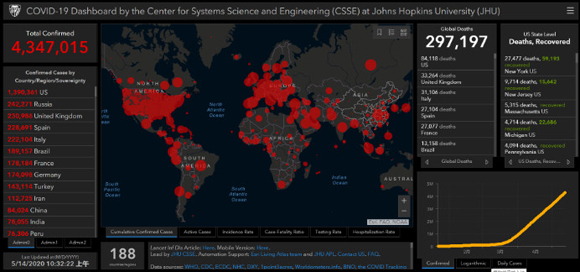 5月14日,全球确诊430万例,死亡29万例。
By 14th May, global total confirmed increased to 4,347,015 cases. Global total deaths increased to 297,197.
1,390,361 in US
242,271 in Russia
230,986 in United Kingdom
228,691 in Spain
222,104 in Italy
全球疫情动态
Global COVID-19 epidemic situation
(1)全球确诊病例突破430万,死亡人数突破29万。
The number of COVID-19 cases surpassed 4,300,000 globally and more than 290,000 people have lost their lives.
(2)5月12日,世卫组织发表烟草与新冠病毒关系的声明,提醒研究者和媒体切勿未经证实发表烟草或尼古丁可降低新冠肺炎感染风险的声明。
WHO has issued a Statement on Tobacco use and COVID-19 on 12th May, urging researchers, scientists and the media to be cautious about amplifying unproven claims that tobacco or nicotine could reduce the risk of COVID-19.
(3)5月11日,世卫组织强调要缓慢、稳定地解除隔离,并时刻准备快速应对新爆发的疫情。
The Director-General Dr. Tedros in his media briefing yesterday, urged a slow, steady, lifting of public health and social measures (so called lockdowns), which is key to stimulating economies, while also keeping a vigilant eye on the virus so that control measures can be quickly implemented if an upswing in cases is identified.
全球经济动态
Global Economic Developments
中国经济动态
Chinese Economic Development
(1)中国将实现U型经济恢复曲线,通过一系列刺激经济的举措帮助周边国家稳定生产、建立信心。
China will lead a gradual U-shaped regional economic recovery, which will help anchor production and confidence in neighboring countries aided by the adoption of a wide range of stimulus packages to contain the novel coronavirus epidemic, the head of a leading international research organization told China Daily in an exclusive interview on 13th May.
(2)5月12日,世界最大的指数公司MSCI将61只股票纳入中国A股指数,并剔除18只股票。
MSCI added 61 shares and removed 18 from the MSCI China-A Onshore Index Series. The world's largest index provider announced the results of a six-month deliberation on 12th May, the National Business Daily reported.
(3)4月份,中国消费者价格指数降至7个月以来的最低点,这将为刺激经济的政策提供更大的空间。
The continued easing of China's consumer inflation, which hit a seven-month low in April, has provided more space for the country to roll out a much-needed economic stimulus package, analysts said on 12th May.
世界经济动态
World Economic Trends
(1)5月13日,联合国贸易和发展会议表示,全球商品贸易下滑幅度将创下2009年全球金融危机以来最大,过去几周的预估愈来愈悲观。UNCTAD指出,第一季度商品贸易量较上季下滑3.0%,第二季度再跌26.9%。与上年同期相比,第一季度及第二季度的跌幅将分别为3.3%及29.0%。
World trade in goods is set to slump at a rate not seen since the global financial crisis in 2009, with estimates becoming increasingly gloomy over the past weeks, the United Nations Conference on Trade and Development (UNCTAD) said on 13th May.
Merchandise trade is seen down 3.0% in the first quarter from the final three months of 2019 and by a further 26.9% in the second quarter, UNCTAD said. Year-on-year, these figures would be falls of 3.3% and 29.0% respectively.
(2)5月13日,全球逾300名议员敦促国际货币基金组织和世界银行免除最贫穷国家的债务,以应对新冠疫情,并增加融资,避免出现全球经济崩溃。
On 13th May, over 300 lawmakers from around the world on Wednesday urged the International Monetary Fund and World Bank to cancel the debt of the poorest countries in response to the coronavirus pandemic, and to boost funding to avert a global economic meltdown.
(3)5月12日,OPEC消息人士表示,石油输出国组织及其盟友希望将目前的减产协议执行期延长至6月以后。OPEC+集团将在6月初召开会议讨论如何支撑受新冠疫情重创的石油价格和需求。
OPEC and its allies want to maintain existing oil cuts beyond June when the OPEC+ group is next due to meet to shore up prices and demand, which has been hit by the coronavirus pandemic, four OPEC+ sources said on 12th May.
权威发布
Official Release
5月19日起,中国海关将会对更多的美国产品豁免额外关税。
More imported US products will be exempt from extra Chinese tariffs starting May 19, according to the Customs Tariff Commission of the State Council, marking China's serious fulfillment of trade commitments with the United States.
专家建议
Expert Advice
5月12日,美国顶级流行病专家福奇警告说,在不严格遵守防疫措施的情况下,重启经济将会产生严重后果。
Little spikes might turn into outbreaks with "really serious" consequences if there is a rush to reopen the US economy without following coronavirus guidelines, Dr Anthony Fauci, the country's top infectious disease expert, said 12th May.
5月10日,欧洲核心期刊发表研究指出,男人的肺中比女人含有更多适宜病毒居住的酶,因此更易死于新冠病毒。
Men are more likely to die from the novel coronavirus than women and the reason could be due to high levels of an enzyme in their lungs that helps the disease take hold there, according to a study published in the European Heart Journal on 10th May.
山川异域 大爱无疆
Mountain and rivers are different,love is boundless
中国民企在行动
China private enterprises are taking action!
4月23日,中国中车长春轨道客车有限公司向塞维利亚交通部门捐赠10万只口罩抗击疫情。
CRRC Changchun Railway Vehicles, a company based in Changchun, capital of Northeast China's Jilin province, on behalf of its parent company CRRC donated 100,000 masks to the transportation department of Serbia on April 23 -- to assist in the novel coronavirus epidemic fight in the country, according to local reports.
抗疫卫生常识介绍
Sanitary tips
以下中国抗疫信息(按时间顺序排列)(第五部分)
The following timeline was arranged in chronological order.(Part 5)
1月16日
Jan.16
· 在病毒检测试剂制好后,武汉采用更积极的措施检测69家二级及以上医院发热门诊的病人。
· 在外交部记者发布会上,外交部发言人向外国记者回应已及时向世卫组织和其它国际机构告知疫情的爆发并保持紧密联系。
· After the optimization of Polymerase Chain Reaction (PCR) diagnostic reagents was complete, Wuhan City took proactive measures to screen all patients treated in fever clinics or under medical observation in 69 secondary or above hospitals.
· Foreign journalists asked about the epidemic for the first time at a press conference held by the Chinese foreign ministry in Beijing. Foreign ministry spokesperson said that China has timely informed the WHO and other international organizations of the outbreak and kept close communication with them.
1月17日
Jan. 17
· 国家卫健委派出7个督导组前往不同省份指导当地疫情防控工作
· The NHC sent seven inspection teams to different provincial-level regions to instruct local epidemic prevention and control work.
1月18日
Jan. 18
· 国家卫健委组织并派出由终南山院士带队的高级别专家组前往武汉进行防控工作的站点调查。
· 国家卫健委发布新冠病毒肺炎诊断与治疗指南第二版。
· The NHC organized and sent a high-level expert team, headed by Zhong Nanshan, to Wuhan City to carry out on-site investigation into the prevention and control work (until Jan. 19).
· The NHC released the second version of guidelines on the diagnosis and treatment for the pneumonia caused by the novel coronavirus.
1月19日
Jan. 19
· 国家卫健委向全国的医疗部门派发核酸检测试剂。
· 国家疾病防控中心与美国疾病防控中心就疫情防控情况进行联系。
· 武汉市卫健委在官网上更新了疫情简报:截至1月17日共有62个确诊病例,其中19例已康复,8例重症,2例死亡。
· The NHC distributed nucleic acid testing reagents to health departments across the country.
· The China CDC communicated with the U.S. CDC on epidemic prevention and control.
· Wuhan Municipal Health Commission updated the outbreak briefing on its official website, saying as of Jan. 17, Wuhan had reported a total of 62 confirmed cases, including 19 cases discharged after recovery, eight cases with severe symptoms, and two deaths.
1月20日
Jan. 20
· 新华社报道了国家主席习近平对武汉及湖北地区新冠肺炎疫情作出的重要指示,要求党和国家各级部门要以人民生命安全和健康为第一要务,全局规划,采取有效措施抑制病毒传播,及时传递信息,深化国际合作。
· 新华社报道了李克强总理召开国务院会议,部署新冠肺炎疫情防控工作。
· 国务院联防联控机制电话会议在北京召开,孙春兰副总理强调地方政府需担负责任,加强防控措施,保障人民健康,保持正常的生产生活秩序。
· 武汉市卫健委在官网上更新了疫情简报:截至1月19日共有198个确诊病例,其中25例已康复,3例死亡。
· 国家卫健委高级别专家组召开新闻发布会,钟南山院士确认新冠病毒人传人,号召民众尽量不要前往武汉。
· 国家卫健委发布声明将新冠肺炎列入B类传染病,但要对其采取A类传染病的防控措施;新冠肺炎归入需隔离的传染病防控体系下。
· 香港城市大学的研究者公布了基因分析,认为新冠病毒的动物载体还有待确认。
· Xinhua News Agency reported that Chinese President Xi Jinping, also general secretary of CPC Central Committee and chairman of the Central Military Commission, has made important instructions on the outbreak of pneumonia caused by the novel coronavirus in Wuhan City and other places in Hubei Province, stressing the Party committees and governments at all levels must put people's safety and health as the top priority, make thorough plans, take effective measures to curb the spread of the virus, timely release information and deepen international cooperation.
· Xinhua News Agency reported that Premier Li Keqiang chaired an executive meeting of the State Council to make further arrangements on the prevention and control work of the pneumonia outbreak caused by the novel coronavirus.
· A teleconference of the joint prevention and control mechanism of the State Council was held in Beijing, at which Vice Premier Sun Chunlan stressed local authorities must take their responsibilities, strengthen the prevention and control measures, secure people's health, and maintain normal production and everyday life order.
· Wuhan Municipal Health Commission updated the outbreak briefing on its official website: as of 10 p.m. on Jan. 19, Wuhan reported a total of 198 cases of pneumonia caused by the novel coronavirus, with 25 cured and discharged cases, three deaths.
· The NHC held a press conference for the high-level expert team headed by Zhong Nanshan, who on the team's behalf confirmed human-to-human transmission of the novel coronavirus and called on people not to go to Wuhan except for extremely important reasons.
· The NHC released a statement to classify the novel coronavirus pneumonia as a category B infectious disease under the law on prevention and control of infectious diseases, but take preventive and control measures of category A infectious diseases; the novel coronavirus pneumonia was put under quarantinable infectious disease management according to the Frontier Health and Quarantine Law.
· The NHC published the second version of guidelines on the prevention and control of the novel coronavirus pneumonia.
· Researchers from City University of Hong Kong published a genetic analysis on the bioRxiv preprint platform, suggesting what animals that serve as the transmission vehicle of the 2019-nCoV remains to be identified.
防疫物资供需
The supply and demand of epidemic prevention products for COVID-19
自新冠肺炎疫情爆发以来,运鸿集团始终坚守责任和使命,用一系列实际行动,助力抗击疫情,用大爱与担当赢得了社会各界的广泛赞誉。
Since the outbreak of the COVID-19, Yunhong Group has adopted a series of practical measures to help fight the epidemics, and won highly praise from all walks of life with its great love and responsibility.
在全球疫情时局紧迫之际,运鸿集团旗下国众兴合生物医药科技有限公司,迅速投入行动,依托大健康产业资源聚集优势及企业优势,搭建高标准生产线,加大生产力度,目前可持续为全球国家和地区提供优质防疫物质。
During the urgent period of the global epidemics, Guo Zhong Xing He Biomedical Technology Co., Ltd, one of the subsidiaries of Yunhong Group, has quickly plunged into action, relying on the advantages of comprehensive health industry in resources and corporations, to build high-quality producing lines and increase productivity. At present, it can continuously provide high-quality anti-epidemic materials to countries and regions around the world.
目前,国众兴合生物医药科技有限公司提供的防护物资,涵盖个人防护用品、体温检测用品、空气消毒用品、校医院/卫生室防护用品、医疗器械、帮助提升免疫力的产品等多个领域。品质保证、资质齐全、价格公道,可与全球防护物资短缺的国家和地区实现精准对接。
Currently, the protective materials, provided by Guo Zhong Xing He Biomedical Technology Co., Ltd., cover multiple aspects such as personal protective equipment, temperature detectors, air disinfectants, school /hospital protective equipment, medical supplies, products that help improve immunity, etc. With quality assurance, complete qualifications, and reasonable prices, it can achieve precise docking for global countries and regions with the shortage of protective materials.
防护物资清单,全球接单, 助力抗疫:
Supply List:
01 Temperature Detectors
02 Personal Protective Equipment
03 School / Hospital Protective Equipment
04 Air Disinfectants
05 Surface Disinfectants
06 Hand Disinfectants
07 Medical Equipment
08 Supplies for Vomit & Excrement
09 Products that Help Improve Immunity
联系人
Contact
Mr. Zhang
Email:beijing9988@126.com

编译:车超 孙彦君 姚旭